Introducing BioWave – here at Arana Security, we have developed a 3-in-1 contactless biometric solution, allowing you to manage all your access control, time attendance, and payment needs from one portal. 
Integrating our BioWave application with Idemia's MorphoWave Compact or VisionPass device allows you to have multiple locations on the same biometric payment or access control system. This gives you control from one centralised location.
In an increasingly digital, post-Covid world, BioWave is the essential biometric solution to modernise and improve outdated systems. 
In this blog post, we'll take a closer look at BioWave, including:
What is BioWave, and how does it work? – BioWave Pay, BioWave Access Control and BioWave Time-Attendance

The BioWave enrollment process 

Integration with VisionPass

Integration with Morphowave
What is BioWave, and how does it work?
Our BioWave management system has three features: BioWave Pay, BioWave Access Control and BioWave Time Attendance. 
BioWave Pay
BioWave Pay is our fast and secure biometric payment solution, designed to speed up checkout, reduce queue times and ensure a frictionless customer experience, integrating seamlessly with ePOS systems, payment kiosks, cashless wallets and unattended retail. Integrating with Idemia's 3D facial/ fingerprint recognition technology allows for a fully contactless experience – much more hygienic than traditional payment methods.
Benefits of BioWave Pay include:
Reduced queues with quick payment transactions

Customers can use multiple bank cards

Customers can link their bank card to their biometrics data using hand or face recognition as their wallet

Easily integrated with any cashier system 

Improved customer experience and customer loyalty

A more secure way to pay with no cash or cards required

Age verification technology eliminates manual ID checks

A more hygienic process 
BioWave Access Control 
Biometric access control has revolutionised security across industries, including access to sporting events, universities, concerts and workplaces. While a keycard, a key, passwords and pins are susceptible to theft and fraud, biometric identifiers are unique and much more difficult to falsify. 
BioWave Access Control provides a one-stop solution for all your security access needs. Our technology instantly identifies and authenticates visitors, enhancing security, and because it's contactless, there's less maintenance and cleaning required. 
Benefits of BioWave Access Control include:
Enhanced security

Faster, more convenient admittance

Prevention of ticket fraud at events

Less security personnel required 

A more hygienic solution
BioWave Time-Attendance 
Keeping track of your staff coming and going can be tricky, particularly in a medium-large organisation. ID cards and fobs can be stolen, lost or swapped, making them unreliable for tracking timekeeping and attendance at work. 
BioWave Time-Attendance can help you accurately manage hours and monitor staff with real-time reporting. Not only does this help reduce HR issues, but it also ensures a safer environment, for example, in the event of a fire.
Benefits of BioWave Time-Attendance include:
Accurate tracking of staff holidays, overtime and rota-planning

Real-time monitoring and reporting

Management of temporary/ contract staff hours

More accurate late and absent records 
The BioWave enrollment process 
The BioWave enrolment process is a frictionless, simple, contact-free user experience.
Install the mobile app

Fill out the registration details

Email verification and portal verification

Generate a QR code and scan it at the touchless enrollment station

Enrol your biometrics on the device

Biometrics synced to all devices
We've created this quick video demonstration using the Morphowave device to showcase how easy and convenient the enrollment process is.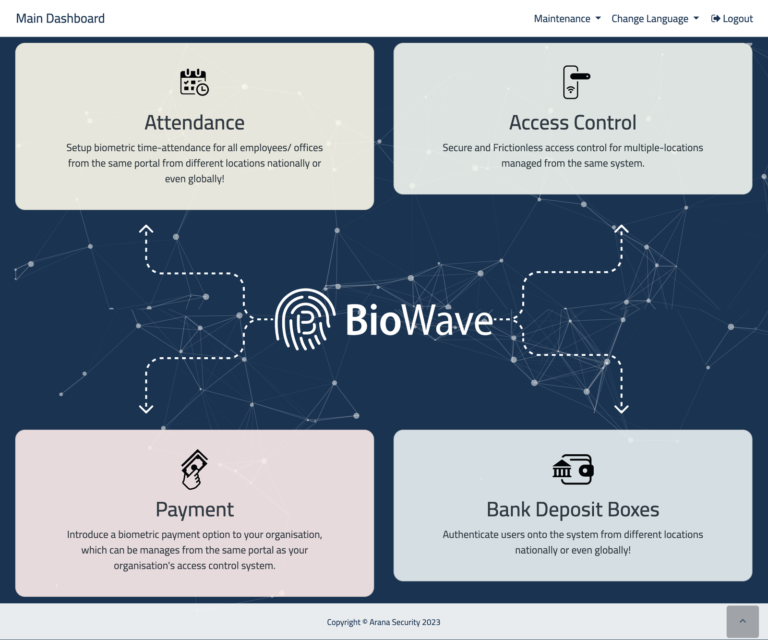 Idemia VisionPass
Facial recognition technology has become increasingly popular in the security industry with a touch-free user experience. VisionPass combines the latest advances in artificial intelligence with state-of-the-art 2D, 3D and infra-red cameras to provide a facial recognition solution that is 99.9% accurate. 
What are the benefits of integration?
Remote face enrollment saves time

Simple user experience

Fast identification process

Easy management using a full-featured online portal

Touch-free experience

Compatible with Android and IOS
Integrating the BioWave application with Idemia's VisionPass device enables facial recognition for a higher level of security while improving user experience. 
Idemia Morphowave 
Idemia Morphowave devices integrated with BioWave offer a contactless biometric solution utilising biometric fingerprint recognition technology. This compact device captures and matches four fingerprints with a single wave.
What are the benefits of integration?
Highly accurate fingerprint data

Overcomes issues with wet fingers 

Allows identification on the move – ideal for high-traffic areas

Versatile and compact device – can be wall mounted 

Multi-factor authentication provides additional security
Could your business benefit from BioWave? Book a demo with us today and discover how integrating BioWave could make your organisation more efficient and secure.